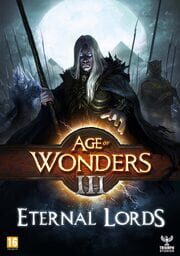 Age of Wonders III: Eternal Lords
Žánry: Strategické, Role-playing (RPG), Tahové strategie
14. dubna 2015 - PC
14. dubna 2015 - Mac
14. dubna 2015 - Linux

Minimální HW požadavky
Operační systém: Windows XP, Windows Vista, Windows 7, Windows 8, Windows 8.1
Procesor: Intel Core 2 Duo E6600 @ 2.4 Ghz or AMD Athlon 64 X2 5000+ @2.6 Ghz
Paměť: 2 GB RAM
Grafická karta: nVidia 8800 / ATi Radeon HD 3870 with 512MB or Laptop integrated Intel HD 3000 with 3GB system ram
DirectX: Verze 9.0c
Připojení: Širokopásmové připojení k internetu
Pevný disk: 10 GB volného místa
Zvuková karta: DirectX 9 Compatible
Dodatečné poznámky:
Requires a 1024x768 screen resolution.
Requires an open IPv4 connection for online multiplayer.
A Triumph Account is required to use the game's online services. The game's single player and Hot Seat modes are fully playable using the guest account.
Please note that the Editor is Windows only.

Buď první kdo přidá k této hře zajímavost!