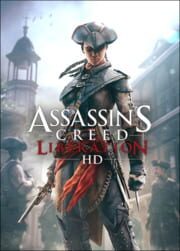 Assassin's Creed: Liberation HD
Žánry: Adventury
30. října 2012 - PlayStation Vita
14. ledna 2014 - PlayStation Network
15. ledna 2014 - Xbox Live Arcade
15. ledna 2014 - PC

Popis hry
Píše se rok 1765. Když na severu dochází k vyostření situace vedoucí až k americké revoluci, chystají se španělské síly k ovládnutí Louisiany na jihu. To ale netuší nic o Aveline, smrtící asasínce, která využije každou zbraň ve svém arzenálu, aby získala pro svou zemi a lid svobodu. Ať už Aveline likviduje...zobrazit více
Píše se rok 1765. Když na severu dochází k vyostření situace vedoucí až k americké revoluci, chystají se španělské síly k ovládnutí Louisiany na jihu. To ale netuší nic o Aveline, smrtící asasínce, která využije každou zbraň ve svém arzenálu, aby získala pro svou zemi a lid svobodu. Ať už Aveline likviduje nepřátele potichu sériemi zabití ve zpomaleném režimu, nebo je láká do smrtících pastí, zasévá strach do srdcí všech, kdo jí stojí v cestě. Jako asasínka se Aveline brzy vydá na nezapomenutelnou cestu, která ji zavede z přelidněných ulic New Orleans přes bažiny plné voodoo magie až do starobylých mayských ruin. Aveline sehraje důležitou roli v prudkém zrodu nového národa. Bojuje nejen za svou svobodu, ale také za svobodu svých spoluobčanů.

zdroj: xzone.cz
Minimální HW požadavky
Operační systém: Windows Vista SP2, Windows 7 SP1, Windows 8 / 8.1 (both 32/64bit versions)
Procesor: Intel Core i3 2105 @ 3.1 GHz or AMD Phenom 2 X4 955 @ 3.2GHz
Paměť: 2 GB RAM
Grafická karta: Nvidia GeForce 8800GT or AMD Radeon HD4870 (512MB VRAM & Shader Model 4.0)
Pevný disk: 3500 MB volného místa
Zvuková karta: DirectX Compatible Sound Card with latest drivers
Dodatečné poznámky: Supported video cards at time of release: Nvidia GeForce 8800GT or better, GeForce 9, GTX 200, GTX 400, GTX 500, GTX 600, GTX 700 series. AMD Radeon HD4870 or better, HD5000, HD6000, HD7000, R7 and R9 series. Note: Latest GeForce drivers tested: 331.65 for all series. Latest Radeon drivers tested: 13.9 Legacy for Radeon HD4870 and Windows Vista, 13.9 for Radeon HD5000 and above. Laptop versions of these cards may work but are NOT officially supported.

Buď první kdo přidá k této hře zajímavost!