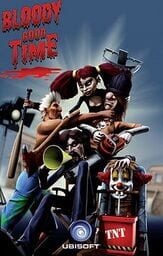 Bloody Good Time
Žánry: FPS
28. října 2010 - Xbox Live Arcade
29. října 2010 - PC

Minimální HW požadavky
Minimum


OS: Microsoft Windows XP SP2 / Vista SP1 (32bit) / Windows 7 (32bit)

Processor: Pentium 4 3.0GHz Dual Core

Memory: 1 GB

Graphics: 128 MB, Shader model 2.0, ATI 9600, NVidia 6600 or better

DirectX®: DirectX 9.0c

Hard Drive: 2 GB free

Sound: DirectX 9.0c compatible sound card

Peripherals: PS2/USB

For 6-8 player multiplayer matches, the Recommended System Requirements are strongly suggested.

Internet (TCP/IP) and LAN (TCP/IP) play supported. Internet play requires broadband connection and latest drivers. LAN play requires network interface card and latest drivers.

Buď první kdo přidá k této hře zajímavost!