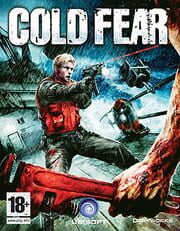 Cold Fear
Žánry: FPS, Adventury
15. března 2005 - Xbox
30. března 2005 - PlayStation 2
13. května 2008 - PC

Minimální HW požadavky
OS: Windows® 2000/XP only

Processor: 1 GHz processor minimum, (2 GHz recommended)

Memory: 256MB RAM minimum, (512MB recommended)

Graphics: DirectX® 9 compliant 64MB (128MB recommended). see supported list*

DirectX Version: DirectX 9.0

Sound: Direct X 9.0 compliant

Hard Drive: 2.2 GB

Input Devices: Mouse, keyboard, Windows compliant game pad.

*Supported Video Cards at Time of Release: Nvidia® GeForce™ 3/4/FX/6 series (GeForce 4 MX not supported) ATI® Radeon® 8500/9000/X seriesLaptop versions of these chipsets may work but are not supported. These chipsets are currently the only ones that will run this game.

Buď první kdo přidá k této hře zajímavost!