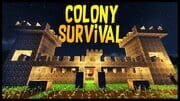 Colony Survival
Žánry: Strategické, Indie, Adventury
během 2017 - PC
během 2017 - Linux

Popis hry
Vytvořte si vlastní vesnici, hrad nebo město a osídlete je kolonisty! Nechte pro vás pracovat stráže, farmáře, horníky, lesníky, pekaře, hutníky a řemeslníky. Po západu slunce většina kolonistů půjde do postele, ale nepřítel se probudí. Horda nestvůr napadne vaši kolonii a pokusí se zabít vás a vaše...zobrazit více
Vytvořte si vlastní vesnici, hrad nebo město a osídlete je kolonisty! Nechte pro vás pracovat stráže, farmáře, horníky, lesníky, pekaře, hutníky a řemeslníky. Po západu slunce většina kolonistů půjde do postele, ale nepřítel se probudí. Horda nestvůr napadne vaši kolonii a pokusí se zabít vás a vaše vesničany. Ubraňte svou kolonii za pomoci zdí, příkopů a stráží!
Minimální HW požadavky
Operační systém: Windows Vista/7/8/10
Procesor: Intel Pentium G620 (2.5 Ghz dual core) or equivalent
Paměť: 2 GB RAM
Grafická karta: Nvidia GTX 730 or equivalent with 1 GB VRAM, 1280x720 display
DirectX: Verze 11
Pevný disk: 300 MB volného místa
Dodatečné poznámky: Work in progress: new features may raise the bar, optimizations may lower the bar

Buď první kdo přidá k této hře zajímavost!