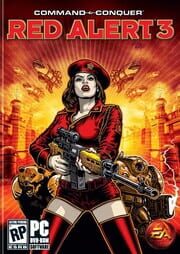 Command & Conquer: Red Alert 3
Žánry: Real Time strategie
28. října 2008 - PC
10. listopadu 2008 - Xbox 360
1. března 2009 - Mac
23. března 2009 - PlayStation 3

Popis hry
Command and Conquer Red Alert 3 - nejnovější přírůstek do rodiny Command & Conquer, který začíná zoufalým pokusem vedoucích představitelů hroutícího se Sovětského svazu změnit dějiny a obnovit slávu sovětského impéria výpravou do minulosti. Cesta zpět v čase však skončí fiaskem, což vyústí ve vznik...zobrazit více
Command and Conquer Red Alert 3 - nejnovější přírůstek do rodiny Command & Conquer, který začíná zoufalým pokusem vedoucích představitelů hroutícího se Sovětského svazu změnit dějiny a obnovit slávu sovětského impéria výpravou do minulosti. Cesta zpět v čase však skončí fiaskem, což vyústí ve vznik alternativní časové linie. V ní se vývoj technologií ubírá zcela jiným směrem, světu dominuje nová supermocnost a zuří III. světová válka.
Na východě povstalo nové Impérium vycházejícího slunce a tento konflikt se změnil v trojstranný zápas mezi Sověty, Spojenci a Impériem. Jejich armády využívají v poli nové a neobvyklé zbraně a technologie, jako Teslovy spirály, mohutně vyzbrojené válečné balóny, teleportaci, obrněné medvědy, inteligentní delfíny, plovoucí ostrovní pevnosti a transformovací tanky.

zdroj: xzone.cz
Minimální HW požadavky
Supported OS: Microsoft Windows® XP SP2, Windows Vista (32-bit)
Processor: Any Intel Core Duo machine; XP: Intel Pentium 4 2.2 GHz or better, AMD Athlon XP 2100+ or better; Vista: Intel Pentium 4 2.6 GHz or better, AMD Athlon XP 2800+ or better
Memory: 1 GB RAM
Graphics: DirectX® 9.0c compatible video card, NVIDIA GeForce 6800 or better, ATI Radeon X800 or better
Hard Drive: At least 10 GB of free space
Sound: DirectX® 9.0c compatible sound card (Yamaha Xwave-512 is not supported)
Multiplayer: 2 - 6 players with optional voice support, network or Internet connection required (Cable, DSL or faster connection).
INTERNET CONNECTION, ONLINE AUTHENTICATION AND ACCEPTANCE OF END USER LICENSE AGREEMENT REQUIRED TO PLAY. TO ACCESS ONLINE FEATURES, YOU MUST REGISTER ONLINE. ONLY ONE REGISTRATION IS AVAILABLE PER GAME. EA ONLINE TERMS & CONDITIONS AND FEATURE UPDATES CAN BE FOUND AT WWW.EA.COM. YOU MUST BE 13+ TO REGISTER WITH EA ONLINE. EA MAY RETIRE ONLINE FEATURES AFTER 30 DAYS NOTICE POSTED ON WWW.EA.COM.

Buď první kdo přidá k této hře zajímavost!