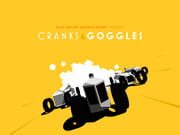 Cranks and Goggles
Žánry: Indie, Závodní
21. prosince 2016 - PC
21. prosince 2016 - Mac

Minimální HW požadavky
Operační systém: Windows XP
Procesor: Dual Core CPU 2.4 gHz
Paměť: 4 GB RAM
Grafická karta: Intel HD Graphics 4000, Nvidia GeForce 8000, ATI Radeon HD 4800 Series
DirectX: Verze 10
Pevný disk: 700 MB volného místa
Zvuková karta: Windows Compatible Card
Dodatečné poznámky: We recommend updating your PC's hardware drivers before playing. If your PC is no longer supported by your manufacturer and your hardware drivers are very old, you may experience difficulty running the game. Please check with your PC manufacturer for more details.

Buď první kdo přidá k této hře zajímavost!