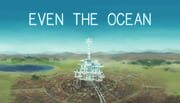 Even the Ocean
Žánry: Indie, Role-playing (RPG), Plošinovky, Adventury
16. listopadu 2016 - Mac
16. listopadu 2016 - PC

Minimální HW požadavky
Operační systém: Windows Vista or higher
Procesor: 1.5 GHz Dual-Core
Paměť: 2 GB RAM
Grafická karta: Intel HD 3000 or equivalent, 1 GB dedicated VRAM
Pevný disk: 500 MB volného místa
Zvuková karta: Anything
Dodatečné poznámky: Lower specs on GPU may result in lag @ 60 FPS with in-game resolutions beyond 2x windowed. Low quality 30 FPS option is included in-game which may alleviate lag. Lag may occur when livestreaming the game at 60FPS at resolutions beyond 2x windowed, even on powerful computers (if you have streaming issues: we recommend 30FPS in-game and with your recording software). Please note that very rarely, the sound in-game may drop out for a few seconds.

Buď první kdo přidá k této hře zajímavost!