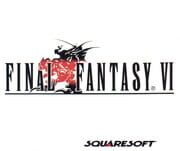 Final Fantasy VI
Žánry: Role-playing (RPG), Adventury
2. dubna 1994 - Super Famicom
11. října 1994 - Super Nintendo Entertainment System (SNES)
11. března 1999 - PlayStation
6. července 2007 - Game Boy Advance
15. března 2011 - Virtual Console (Nintendo)
20. dubna 2011 - PlayStation Network
15. ledna 2014 - Android
6. února 2014 - iOS
16. prosince 2015 - PC

Minimální HW požadavky
Operační systém: Windows Vista / 7 / 8 / 8.1
Procesor: Pentium 4 2.4 GHz
Paměť: 2 GB RAM
Pevný disk: 950 MB volného místa
Dodatečné poznámky: *Anti-aliasing FXAA should be switched on at certain resolutions. Running Final Fantasy VI with an unsupported controller plugged in, even as a secondary device, can lead the game to crash.

Buď první kdo přidá k této hře zajímavost!