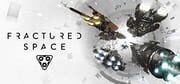 Fractured Space
Žánry: Strategické, Indie
Minimální HW požadavky
Operační systém: 64bit Windows 7 SP1 / Windows 8 / Windows 8.1 / Windows 10
Procesor: 2.3+ GHz
Paměť: 4 GB RAM
Grafická karta: DX11 with Feature Level 11, SM5
DirectX: Verze 11
Pevný disk: 16 GB volného místa
Dodatečné poznámky: Make sure your drivers and Windows are updated. Supported chipsets: NVIDIA 470 GTX, AMD HD6850, Intel HD4600 or greater. Laptop versions of these chipsets may not be supported. Updates to your video and sound card drivers may be required. We'll be constantly updating the game to lower the required specs, so bear with us if your machine is struggling.

Buď první kdo přidá k této hře zajímavost!