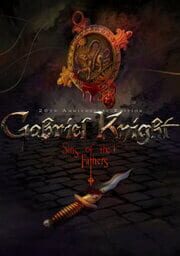 Gabriel Knight: Sins of the Father - 20th Anniversary Edition
Žánry: Point-and-click, Adventury
16. října 2014 - Mac
16. října 2014 - PC

Popis hry
Vychutnejte si příběh skvělé detektivní adventůry, který vás, Gabriela Knighta, majitele knihkupectví zavede při pátrání u zlověstné Voodo vraždy do New Orleans, kde odhalíte néjedno tajemství, které se skrývá na pozadí. Prostředí nabízí velmi bohatou interakci s místními obyvateli města, a tak budete...zobrazit více
Vychutnejte si příběh skvělé detektivní adventůry, který vás, Gabriela Knighta, majitele knihkupectví zavede při pátrání u zlověstné Voodo vraždy do New Orleans, kde odhalíte néjedno tajemství, které se skrývá na pozadí. Prostředí nabízí velmi bohatou interakci s místními obyvateli města, a tak budete mít o zábavu a napětí zaručeně postaráno.

zdroj: Heureka
Minimální HW požadavky
Operační systém: Windows XP
Procesor: 2.0 GHz
Paměť: 2 GB RAM
Grafická karta: ATI or NVidia with 512 MB RAM
Pevný disk: 4 GB volného místa
Dodatečné poznámky: Minimum suggested screen resolution is 1024x768. Not recommended for play on Intel systems with integrated/shared video memory.

Buď první kdo přidá k této hře zajímavost!