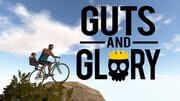 Guts and Glory
Žánry: Indie, Závodní
během 2017 - PC
během 2017 - Mac

Minimální HW požadavky
Operační systém: Windows 7 and up
Procesor: 2 GHz Dual Core
Paměť: 2 GB RAM
Grafická karta: GeForce GT 650M / Radeon R9 M375 or higher graphics card
DirectX: Verze 9.0c
Pevný disk: 3 GB volného místa
Zvuková karta: DirectX 9 compatible
Dodatečné poznámky: Dedicated graphics card means NOT an Intel HD _____. Basically any video card with a benchmark of 1,200+ (see: www.videocardbenchmark.net). Technically runs on lower, but at your own risk. Mouse and keyboard currently needed for Level Editor. 4GB is current space required, but this could grow to 10GB by full version.

Buď první kdo přidá k této hře zajímavost!