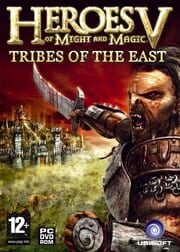 Heroes of Might and Magic V: Tribes of the East
Žánry: Strategické, Role-playing (RPG), Tahové strategie
Popis hry
Další kapitola v příběhu, která konečně rozřeší události z Heroes of Might and Magic 5 a začala se svatbou královny Isabely. Budete následovat kroky nekrolorda Arantíra, který odhalí proroctví Temného mesiáše (Dark Messiah of Might and Magic) a spolu s tím i spiknutí démonů, kteří zasahují až na nejvyšší...zobrazit více
Další kapitola v příběhu, která konečně rozřeší události z Heroes of Might and Magic 5 a začala se svatbou královny Isabely. Budete následovat kroky nekrolorda Arantíra, který odhalí proroctví Temného mesiáše (Dark Messiah of Might and Magic) a spolu s tím i spiknutí démonů, kteří zasahují až na nejvyšší místa.
Tak zjistíte, jak démoni pronikli do řádu nebeských rytířů av roli velitele nových hratelných frakcí "orků" se pokusíte pekelně hrozbu eliminovat. Dramatický příběh, který nabízí i několik postav z first-person akce Dark Messiah of Might and Magic, má hned několik rovin a zavede Vás do zcela nových míst.
Pro aktivaci je potřeba vlastnit základní hru Might and Magic Heroes V.

zdroj: xzone.cz
Minimální HW požadavky
Supported OS: Windows 2000/XP/Vista only
Processor: 1.5 GHz Pentium 4 or AMD Athlon
Memory: 1 GB
Graphics: 128 MB DirectX 9.0c-compliant video card
DirectX Version: DirectX 9.0c or higher
Sound: Direct X 9.0c compliant
Hard Drive: 3 GB free hard disk space
Multiplayer: 128 Kbps upstream broadband
*Supported Video Cards at Time of Release: NVIDIA GeForce 4 Ti/FX/6/7/8 series (GeForce4 MX is NOT supported), ATI RADEON 8500/9/X series, Intel 915/945/965/3100
Laptop versions of these chipsets may work but are not supported. These chipsets are currently the only ones that will run this game.

Buď první kdo přidá k této hře zajímavost!