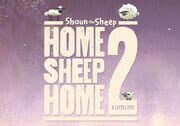 Home Sheep Home 2
Žánry: Indie, Puzzle, Adventury
1. prosince 2011 - iOS
17. února 2014 - Mac
17. února 2014 - PC

Popis hry
Roztomilé ovečky navazují na své neméně sympatické kolegyně z prvního dílu této veleúspěšné logické hry. Postarejte se, aby tříčlenná rodinka přežvýkavců prošla zdárně všemi herními koly a doputovala až do domečku. Levely jsou řazeny vzestupně dle obtížnosti, takže je možné, že se po počátečních úspěších...zobrazit více
Roztomilé ovečky navazují na své neméně sympatické kolegyně z prvního dílu této veleúspěšné logické hry. Postarejte se, aby tříčlenná rodinka přežvýkavců prošla zdárně všemi herními koly a doputovala až do domečku. Levely jsou řazeny vzestupně dle obtížnosti, takže je možné, že se po počátečních úspěších na chvilku zaseknete a objevení i zdolání optimální trasy vám bude trvat trochu déle, rozhodně se však v případě dílčího neúspěchu nenechte odradit a neházejte ukvapeně flintu do žita. Pohybujte uvážlivě beranem, ovcí i jehnětem a zajistěte, aby celá ovčí famílie díky vzájemné spolupráci ve hře dokráčela skutečně až do domku.  

zdroj: heureka.cz
Minimální HW požadavky
Operační systém: Windows (XP, Vista, Windows 7) 32 or 64-bit
Procesor: Core 2 Duo (1.8GHz - although we have tested back to a Pentium 4 and it was playable)
Paměť: 1 GB RAM
Grafická karta: It will work on all forms of GPU via the software rendering fallback (including Intel GMA and other on-board variants).
Pevný disk: 700 MB volného místa
Dodatečné poznámky: The PC version is a native desktop application, taking advantage of the increased screen sizes and video card speed available. Supporting window or full-screen mode, with resolutions ranging from 640x480 to 2048x1536 it allows the player to enjoy the visuals in their full glory.

Buď první kdo přidá k této hře zajímavost!