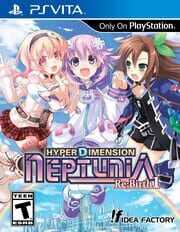 Hyperdimension Neptunia Re;Birth1
Žánry: Role-playing (RPG)
31. října 2013 - PlayStation Vita
30. ledna 2015 - PC

Minimální HW požadavky
Operační systém: Windows 7 (64bit)
Procesor: Core2Duo 2.66 GHz
Paměť: 4 GB RAM
Grafická karta: DirectX 10.x or OpenGL 3.3 with video card with 1GB ram and support for v4 shaders
DirectX: Verze 10
Pevný disk: 7 GB volného místa
Zvuková karta: DirectX 9.0c compatible sound card
Dodatečné poznámky: May not work properly with Windows 7 and 8 (32bit) version. On-board graphics card are not recommend. Highly recommend to have an independent graphics card.

Buď první kdo přidá k této hře zajímavost!