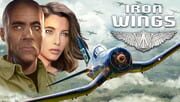 Iron Wings
Žánry: Indie, Simulátory
Minimální HW požadavky
Operační systém: Windows 7, Windows 8 or Windows 10
Procesor: AMD or Intel Dual-Core processor running at ~3.3 GHz (minimum AMD Phenom II X4 810 or Intel Core i5 650).
Paměť: 4 GB RAM
Grafická karta: DirectX 9 compatible NVIDIA, ATI/AMD graphic card with 2GB of dedicated VRAM (and Shader Model 3.0 support).
DirectX: Verze 9.0c
Pevný disk: 2 GB volného místa
Zvuková karta: Any

Buď první kdo přidá k této hře zajímavost!