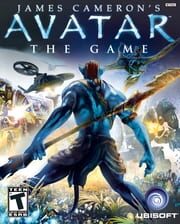 James Cameron's Avatar: The Game
Žánry: FPS, Adventury
1. prosince 2009 - PlayStation 3
1. prosince 2009 - Nintendo DS
1. prosince 2009 - Wii
1. prosince 2009 - PC
1. prosince 2009 - Xbox 360
7. prosince 2009 - PlayStation Portable
14. prosince 2009 - iOS
25. listopadu 2010 - Android

Popis hry
Avatar: The Game vás zavede do těžko představitelného světa kdesi v samotném nitru planety Pandora. Avatar: The Game vás zavede do těžko představitelného světa kdesi v samotném nitru planety Pandora. Setkáte se s Na'vi, původními obyvateli tohoto světa a získáte možnost objevit nové formy života - takové,...zobrazit více
Avatar: The Game vás zavede do těžko představitelného světa kdesi v samotném nitru planety Pandora. Avatar: The Game vás zavede do těžko představitelného světa kdesi v samotném nitru planety Pandora. Setkáte se s Na'vi, původními obyvateli tohoto světa a získáte možnost objevit nové formy života - takové, jaké jste ještě v žádné počítačové hře neviděli. Po rozhoření konfliktu mezi korporací RDA, vesmírným obchodnickým konsorciem hledajícím cenné zdroje, a Na'vi se hráči vrhnou do víru bojů o srdce planety i osud celé civilizace.

Ponořte se hluboko do neuvěřitelného světa planety Pandora a podívejte se na vesmír Jamese Camerona ze své vlastní perspektivy.

Bojujte za sebe, RDA nebo Na´vi. Upravte si více jak 60 zbraní RDA a Na´vi. Zvolte si své dovednosti: 20 za každý klan. Projeďte se ve všech vozidlech a na všech zvířatech.

zdroj: heureka.cz
Minimální HW požadavky
OS: Windows® XP, Windows Vista®, Windows® 7 (only)

Processor: 3.2 Ghz Intel® Pentium® 4, 2.66 Ghz Intel® Pentium® D, AMD Athlon™ 64 3500+ or better (Intel® Core® 2 Duo Family, AMD Athlon™ 64 X2 5200+, AMD Phenom™ or better recommended)

Memory: 1 GB (2 GB recommended, 2 GB minimum for Windows Vista® and Windows® 7)

Graphics: 256 MB DirectX® 10.0-compliant video card or DirectX 9.0-compliant card with Shader Model 3.0 or higher (512 MB recommended) - See supported List*

DirectX®: DirectX 9.0 (included), DirectX 10

Hard Drive: 4 GB

Sound: DirectX 9.0-compliant sound card (5.1 sound card recommended)

Peripherals: Windows-compliant mouse, keyboard, headset

Multiplayer: 128 kbps Broadband connection (256 kbps connection or better recommended)

*SUPPORTED VIDEO CARDS AT TIME OF RELEASE:
ATI® RADEON® 1650-1950 / HD 2000/3000/4000 series
NVIDIA GeForce™ 200 series and 6800/7000/8000/9000 series
* 8800M and 8700M laptop cards are supported.
Laptop models of these cards may work but are not supported. These chipsets are the only ones that will run this game. Additional chipsets may be supported after release. For an uptodate list of supported chipsets, please visit the FAQ for this game on our website: http://support.ubi.com

Buď první kdo přidá k této hře zajímavost!