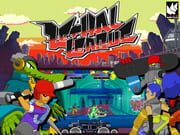 Lethal League
Žánry: Indie, Bojové
Popis hry
Unikátní projektilová bojovka kombinující prvky Street Fightera a Ponga. Hrát můžete v příběhovém módu, s až 4 přáteli na jednom PC, nebo také online. Jde o zběsilou soupeřící "bojovku" v unikátním grafickém pojetí.  

zdroj: zobrazit více
Unikátní projektilová bojovka kombinující prvky Street Fightera a Ponga. Hrát můžete v příběhovém módu, s až 4 přáteli na jednom PC, nebo také online. Jde o zběsilou soupeřící "bojovku" v unikátním grafickém pojetí.  

zdroj: heureka.cz
Minimální HW požadavky
Operační systém: Windows XP
Procesor: Core 2 Duo or equivalent - 1.5 GHz or higher
Paměť: 1 GB RAM
Grafická karta: NVidia Geforce FX, 6x00, 7x00, 8x00, 9x00 and GTX 2x0 and newer. ATI Radeon 9x00, Xx00, X1x00, HD2x00 and HD3x00 series and newer. Intel® HD Graphics
Pevný disk: 1 GB volného místa
Dodatečné poznámky: Videocard must support GLSL to run the game. Be sure to use updated video drivers.

Buď první kdo přidá k této hře zajímavost!