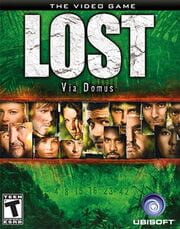 Lost: Via Domus
Žánry: Adventury
26. února 2008 - PC
26. února 2008 - PlayStation 3
29. února 2008 - Xbox 360

Minimální HW požadavky
Supported OS: Windows® XP (Service Pack 2) or Vista®

Processor: AMD Athlon™ MP 2400+ 2.0 GHz or Intel® Pentium® 4C 2.4 GHz

Memory: 1 GB

Graphics: 128 MB DirectX® 9.0c-compliant, Shader 3.0-enabled videocard (see supported list*)

DirectX Version: DirectX 9.0c (included)

Sound: DirectX 9.0c-compliant sound card

Hard Drive: 5.0 GB free

*Video cards supported at time of release: ATI® RADEON® X1300-1950/HD 2000 series, NVIDIA GeForce® 6600-6800/7/8 series

Laptop versions of these cards may work but are NOT supported.

NVIDIA® nForce™ or other motherboards/soundcards containing the Dolby® Digital Interactive Content Encoder required for Dolby Digital audio.

Buď první kdo přidá k této hře zajímavost!