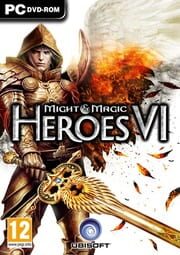 Might & Magic: Heroes VI
Žánry: Strategické, Role-playing (RPG), Tahové strategie
Popis hry
Dobrodružství hry Heroes VI začíná 400 let před událostmi Heroes V. Ve vzrušujícím epickém příběhu, kdy se Andělé snaží znovu rozpoutat nedokončenou válku, se střetne celá plejáda hrdinů.

Došlo k oživení legendárního generála archandělů, který byl zabit během války ras Starších. Pod záminkou přípravy...zobrazit více
Dobrodružství hry Heroes VI začíná 400 let před událostmi Heroes V. Ve vzrušujícím epickém příběhu, kdy se Andělé snaží znovu rozpoutat nedokončenou válku, se střetne celá plejáda hrdinů.

Došlo k oživení legendárního generála archandělů, který byl zabit během války ras Starších. Pod záminkou přípravy na invazi Démonů chce získat nazpátek své síly, zmocnit se Ashanu a vyhladit své dávné nepřátele. Tento generál však podcenil sílu až příliš lidem podobné dynastie Gryfů.

Osud hrdinů z dynastie Gryfů spočine v rukách našich hráčů.

zdroj: heureka.cz
Minimální HW požadavky
OS: Windows XP, Windows Vista, Windows 7 (all 32/64 bit)
Processor: Intel Pentium Core 2 Duo E4400 @ 2.0 Ghz, AMD Athlon X2 5000+ @ 2.6 Ghz
Memory: 1 GB for Windows XP and 1.5GB for Vista / Windows 7
Graphics: 512 MB, DirectX 9.0c
DirectX®: 9.0c
Hard Drive: 8 GB
Sound: DirectX 9.0c compatible Supported Video Cards at Release Time:
NVIDIA GeForce® 8600 or higher
NVIDIA GeForce™ 9 Series
NVIDIA GeForce™ 200 Series
NVIDIA GeForce™ 400 Series
NVIDIA GeForce™ 500 Series
ATI® RADEON® HD 2600 or higher
ATI® RADEON® HD 3000 Series
ATI® RADEON® HD 4000 Series
ATI® RADEON® HD 5000 Series
ATI® RADEON® HD 6000 Series Laptop versions of these cards may work but are NOT supported. These chipsets are the only ones that will run this game.

Buď první kdo přidá k této hře zajímavost!