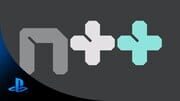 N++
Žánry: Indie, Plošinovky, Puzzle
28. července 2015 - PlayStation Network
28. července 2015 - PlayStation 4
25. srpna 2016 - PC

Minimální HW požadavky
Operační systém: 32-bit Windows Vista
Procesor: Core i3 / AMD A6 2.4Ghz
Paměť: 2 GB RAM
Grafická karta: 512MB VRAM NVIDIA GeForce 8xxx series / ATI Radeon HD 3xxx series. OpenGL 3.3 support
Pevný disk: 650 MB volného místa
Dodatečné poznámky: Integrated Intel graphics are not supported. Intel HD 4000-series or better should work, but may have issues. The game may run on Windows XP, but we have not been able to test it.

Buď první kdo přidá k této hře zajímavost!