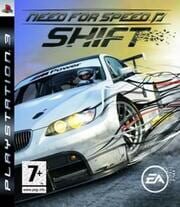 Need for Speed: Shift
Žánry: Simulátory, Závodní
18. září 2009 - iOS
18. září 2009 - PlayStation 3
18. září 2009 - Xbox 360
18. září 2009 - PC
18. září 2009 - Android
18. září 2009 - PlayStation Portable

Popis hry
SHIFT = POSUN, a tím tahle hra přesně chce v sérii Need for Speed být. Seznamte se, Shift přijíždí. Tratě byly v předváděné pre-alpha verzi k dispozici dvě. A sice londýnský okruh a jedna z nejslavnějších tratí světa, kde se jezdily snad všechny motoristické série, včetně F1 a MotoGP - ano, mluvím tu...zobrazit více
SHIFT = POSUN, a tím tahle hra přesně chce v sérii Need for Speed být. Seznamte se, Shift přijíždí. Tratě byly v předváděné pre-alpha verzi k dispozici dvě. A sice londýnský okruh a jedna z nejslavnějších tratí světa, kde se jezdily snad všechny motoristické série, včetně F1 a MotoGP - ano, mluvím tu o Brands Hatch. U vozů byl větší výběr, rovnou šestice krasavců. Byly to už předem jak vizuálně, tak výkonově upravené kousky. Konkrétně se jednalo o Pagani Zonda F, Corvette Z06, Porsche 997 GT2, Audi RS4, Lotus Elise 111R a Shelby Terlingua. Máme tedy potvrzen tuning vzhledu i výkonu. Úplně prvním dojmem při předvádění na velké TV byl úžas nad ohromnou grafikou, kterou jsem do té doby já osobně ještě u PC závodní hry neviděl. Možná to byl úsudek ovlivněný očekáváním, ale byl to první dojem. Nicméně i později jsem se utvrdil v tom, že grafická stránka hry bude patřit k těm nejsilnějším. Nejvíce zapůsobily odlesky auta, svit slunce, prorostlé listnaté stromy. Ve hře samozřejmě nechybí ani kouř z pneumatik, který se v této verzi vyskytoval v rozumné míře. I zvuk ve hře byl velice detailní a realistický, takže při prvních pár bouračkách člověka autenticita zvuku zvedla ze židle. Hra je v češtině.

Více o hře si můžete přečíst na webu NFSGAME.net.

zdroj: xzone.cz
Minimální HW požadavky
OS: Windows XP (Service Pack 3) / Windows Vista (Service Pack 2) / Windows 7
Processor: 1.6GHz Intel Core2 or faster/AMD X2 3800+ or faster
Memory: (Windows XP) 1 GB RAM; (Windows Vista/Windows 7) 1.5 GB RAM
Graphics: 256 MB Video Card, with support for Pixel Shader 3.0*
DirectX®: DirectX 9.0c compatible
Hard Drive: 6 GB
Sound: DirectX 9.0c compatible
Controller Support: USB Steering Wheel/Dual Analog Gamepad
Online Multiplayer: 512 Kbps or faster; 2-8 players
INTERNET CONNECTION, ONLINE AUTHENTICATION AND ACCEPTANCE OF END USER LICENSE AGREEMENT REQUIRED TO PLAY. TO ACCESS ONLINE FEATURES, YOU MUST REGISTER ONLINE. ONLY ONE REGISTRATION IS AVAILABLE PER GAME. EA ONLINE TERMS & CONDITIONS AND FEATURE UPDATES CAN BE FOUND AT WWW.EA.COM. YOU MUST BE 13+ TO REGISTER WITH EA ONLINE. EA MAY RETIRE ONLINE FEATURES AFTER 30 DAYS NOTICE POSTED ON WWW.EA.COM.

Po dlouhých devíti letech jde o první hru ze série Need for Speed, která obsahuje pohled z interiéru. Naposledy to bylo možné v Need for Speed: Porsche 2000.