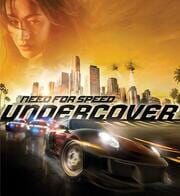 Need for Speed: Undercover
Žánry: Arkády, Závodní
18. listopadu 2008 - Nintendo DS
18. listopadu 2008 - PC
18. listopadu 2008 - PlayStation 3
18. listopadu 2008 - PlayStation 2
18. listopadu 2008 - PlayStation Portable
18. listopadu 2008 - Wii
18. listopadu 2008 - iOS
18. listopadu 2008 - Xbox 360

Popis hry
Nikdy jste si nemysleli, že to dopadne právě takhle - absolutní honička, ve které jste štvancem a lovcem zároveň Nyní si musíte sednout za volant a riskovat všechno, abyste infiltrovali brutální mezinárodní zločineckou organizaci a zničili ji.

Nejnovější díl proslulé automobilové série vyniká propracovaným...zobrazit více
Nikdy jste si nemysleli, že to dopadne právě takhle - absolutní honička, ve které jste štvancem a lovcem zároveň Nyní si musíte sednout za volant a riskovat všechno, abyste infiltrovali brutální mezinárodní zločineckou organizaci a zničili ji.

Nejnovější díl proslulé automobilové série vyniká propracovaným a atraktivním příběhem, plným skvělé živé akce v hollywoodském stylu, v němž se přesunete do fiktivního světa Tri-City Bay a zažijete opět honičky s policií, ba i v samotném policejním voze se budete moci projet.

Hlavní rysy :

Otevřený svět.
Vrhněte se do akcí nabitého příběhu pronásledování a zrady.
Předveďte úžasné manévry a získejte největší řidičskou převahu.
Honičky a pronásledování s policií.
Zabraňování území, odemykání mapy.
Tuning i nitro.

Obrázky :

zdroj: xzone.cz
Minimální HW požadavky
Supported OS: Microsoft Windows® Windows XP (SP2), Windows Vista
Processor: Intel Pentium® 4 or equivalent, 3.0 GHz or faster
Memory: 5XP: 512 MB RAM / Vista: 1 GB RAM
Graphics: 128 MB or more, NVIDIA GeForce (6600 or better); ATI Radeon (9500 or better); Intel G45 Express Chipset
Drivers: DirectX® 9.0c (included) and latest video drivers
Hard Drive: 6.0 GB free space
Sound: DirectX 9.0c compatible sound card
INTERNET CONNECTION, ONLINE AUTHENTICATION AND ACCEPTANCE OF END USER LICENSE AGREEMENT REQUIRED TO PLAY. TO ACCESS ONLINE FEATURES, YOU MUST REGISTER ONLINE. ONLY ONE REGISTRATION IS AVAILABLE PER GAME. EA ONLINE TERMS & CONDITIONS AND FEATURE UPDATES CAN BE FOUND AT WWW.EA.COM. YOU MUST BE 13+ TO REGISTER WITH EA ONLINE. EA MAY RETIRE ONLINE FEATURES AFTER 30 DAYS NOTICE POSTED ON WWW.EA.COM.

Buď první kdo přidá k této hře zajímavost!