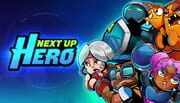 Next Up Hero
Žánry: Role-playing (RPG)
31. března 2018 - Nintendo Switch

Minimální HW požadavky
Operační systém: Windows® 7, 64-bit
Procesor: 3.4 GHz Intel Core i3 or 3.1 GHz AMD A8-6700
Paměť: 8 GB RAM
Grafická karta: AMD Radeon HD 6850 / NVIDIA GeForce 650 / Intel IRIS Pro
Připojení: Širokopásmové připojení k internetu
Pevný disk: 5 GB volného místa
Dodatečné poznámky: NOTICE: All system requirements are preliminary and subject to change. NOTICE: Windows® 8 & 8.1 are unsupported.

Buď první kdo přidá k této hře zajímavost!