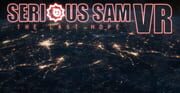 Serious Sam VR: The Last Hope
Žánry: FPS
Minimální HW požadavky
Operační systém: Windows 7 64bit
Procesor: Intel Core i5 - 4590 equivalent
Paměť: 6 GB RAM
Grafická karta: AMD R9 290 or NVIDIA GTX 970
DirectX: Verze 11
Pevný disk: 10 GB volného místa
Dodatečné poznámky: HTC Vive or Oculus Rift VR headset plus hand controllers. Internet connection required for product activation for the first time. After that, a persistent connection is not required to play SSVR: The Last Hope.

Buď první kdo přidá k této hře zajímavost!