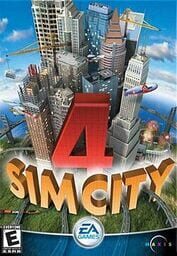 SimCity 4
Žánry: Strategické, Simulátory
12. ledna 2003 - PC
25. července 2003 - Mac

Popis hry
S dosud nejobsáhlejším a nejlepším SimCity nyní můžete budovat megaměsta.
SimCity 4 Deluxe Edition obsahuje komerčně úspěšný titul SimCity 4 plus nový datadisk SimCity 4 Rush Hour.
Stejně jako v původním SimCity 4 můžete stavět městské ob-lasti včetně farmářského města, rezidenční čtvrti, technologicky...zobrazit více
S dosud nejobsáhlejším a nejlepším SimCity nyní můžete budovat megaměsta.
SimCity 4 Deluxe Edition obsahuje komerčně úspěšný titul SimCity 4 plus nový datadisk SimCity 4 Rush Hour.
Stejně jako v původním SimCity 4 můžete stavět městské ob-lasti včetně farmářského města, rezidenční čtvrti, technologicky vyspělého obchodní-ho centra nebo klíčové průmyslové zóny. Spravujte každičký detail chodu vašich měst od řízení likvidace živelních pohrom až po dosah městské hromadné dopravy. Datadisk SimCity 4 Rush Hour vám umožní plnou kontrolu nad systémem městské dopravy včetně cest, tratí, vzdušných koridorů a vodních tras.

zdroj: xzone.cz
Minimální HW požadavky
OS: Windows XP
Processor: PIII 500 or equivalent
Memory: 256MB
Graphics: 32MB supported Direct3D capable video card with DirectX 7.0 or greater compatible driver
DirectX®: DirectX 8.1
Hard Drive: 1.6GB
Supported 3D Accelerator Hardware: SimCity 4 Deluxe / Rush Hour requires a 32MB 3D Direct3D chipset, and a display that is at least 800x600 in size, and supports 16 or 32-bit color. It is recommended to always install the latest certified drivers for all your hardware   Supported Graphics Chipsets Cards with these chipsets are officially supported by the SimCity 4 hardware graphics driver: nVidia: http://www.nvidia.com
nVidia TNT2, TNT2 M64, & TNT2 Ultra
nVidia GeForce SDR, GeForce DDR, GeForce Quadro, GeForce2 GTS, GeForce2 MX, GeForce2 GTS, GeForce3, GeForce4 MX, GeForce4 Ti 4200/4400/4600/4800 SE, and GeForceFX 5200/5600/5800/5900 ATI: http://www.ati.com
ATI Radeon 7000, 7200, 7500, 8500, 9000, 9200, 9500, 9600, 9700, 9800
Known Issues: Due to hardware limitations with the ATI Radeon series, some buildings and graphic effects will be temporarily turned off while scrolling. There is a known ATI driver defect that results in SimCity advisor animations dropping polygons. To fix this, please download ATI driver 7.79 or later (also referred to as CATALYST 02.4) from http://www.ati.com on the Internet. Matrox: http://www.matrox.com
Matrox G400, G450, G550, Parhelia SiS: http://www.sis.com
SiS 315, Xabre 400 Software Mode: SimCity 4 also provides a software-based graphics driver which will work with most video cards. 32MB of video memory is recommended. The graphics mode driver can be selected from the Graphics Options panel in the game, or may be run from the command line using the switch -d:Software. The following video chipsets will run the game properly in software mode:
PowerVR KYRO, KYRO II
Trident Blade 64

Buď první kdo přidá k této hře zajímavost!