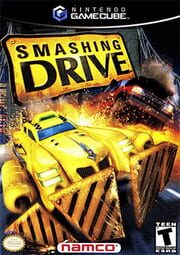 Smashing Drive
Žánry: Závodní
během 2000 - Arcade
18. února 2002 - Nintendo GameCube
13. května 2002 - Xbox
3. listopadu 2004 - Game Boy Advance

Minimální HW požadavky
OS: Windows XP or Windows Vista 32bit

Processor: Athlon XP / 64 3000+ or Pentium IV 1.8 GHz

Memory: 256 Megabytes of RAM

Graphics: 3D accelerated GeForce 128 MB or equivalent DirectX9.0c compatible*

DirectX: 9.0c

Hard Drive: 2 GB free hard disk space plus space for saved games (additional space required for DirectX 9.0c installation).

Sound: Directx 9.0c Compatible Sound Card

Controller support: MS compatible mouse, Keyboard, Xbox360 PC compatible PAD and PC PAD.

* Integrated video card are not supported

Buď první kdo přidá k této hře zajímavost!