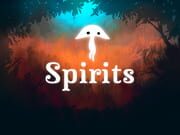 Spirits
Žánry: Indie, Plošinovky, Puzzle
během 2010 - Mac
během 2010 - PC
během 2010 - iOS
během 2010 - Android

Minimální HW požadavky
OS: Windows XP
Processor: 2.0GHz Intel Core 2 Duo processor, or similar
Memory: 2 GB RAM
Graphics: Graphics card with 128 Mb VRAM and Framebuffer Object support. Integrated graphics cards may not work.
DirectX®: 9.0c
Hard Drive: 150 MB HD space
Sound: Any

Buď první kdo přidá k této hře zajímavost!