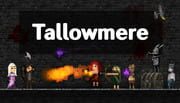 Tallowmere
Žánry: Indie, Hack and slash, Plošinovky
3. března 2015 - PC
3. března 2015 - Linux
3. března 2015 - Mac

Minimální HW požadavky
Operační systém: Windows XP SP2 or newer
Procesor: 2 GHz or faster; 32-bit or 64-bit
Paměť: 2 GB RAM
Grafická karta: Onboard or dedicated GPU; 256 MB RAM; Shader Model 3.0
DirectX: Verze 9.0c
Pevný disk: 300 MB volného místa
Zvuková karta: Onboard or better
Dodatečné poznámky: Play with keyboard (and optionally mouse buttons), or use a controller. Successfully tested with Xbox 360, PS3, PS4, and Steam Controllers. XInput may need to be toggled in-game in some cases.

Buď první kdo přidá k této hře zajímavost!