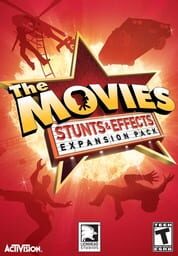 The Movies: Stunts and Effects
Žánry: Simulátory
6. června 2006 - PC
1. prosince 2006 - Mac

Minimální HW požadavky
Microsoft Windows 2000/XP, 800MHz processor or higher, 256MB RAM, 100% DirectX 9.0c compatible 16-bit sound card and latest drivers, 100% Windows 2000/XP compatible mouse, keyboard and latest drivers, DirectX 9.0c (included), Updated Windows Media Player 9 Codecs (included), 800 x 600 Monitor Resolution, 3D Hardware Accelerator Card required - 100% DirectX 9.0c compatible 32MB Hardware T&L-capable video card and latest drivers*
Supported Graphics Cards:ATI Radeon series (7000 or better). 7000, 7200, 7500, 8500, 9000, 9200, 9250, 9550, 9600, 9700, 9800, x300, x600, x700, x800, x850
Important Note:*Some 3D accelerator cards with the chipsets listed here may not be compatible with the 3D acceleration features utilized by The Movies: Stunts & Effects. Please refer to your hardware manufacturer for 100% DirectX 9.0c compatibility.
Online Requirements: Internet (TCP/IP) supported Online content requires broadband connection and the latest drivers.

Buď první kdo přidá k této hře zajímavost!