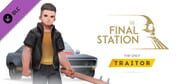 The Only Traitor DLC
Žánry: Indie, Adventury
Minimální HW požadavky
Operační systém: Windows XP and up
Procesor: 1 Ghz and up
Paměť: 1 GB RAM
Grafická karta: Built in toaster
Pevný disk: 1 GB volného místa
Dodatečné poznámky: Please don't use your video card to make toast. Runs fine on integrated graphics cards.

Buď první kdo přidá k této hře zajímavost!