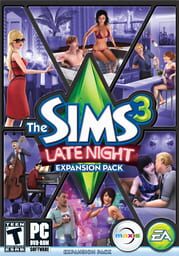 The Sims 3: Late Night
Žánry: Simulátory
26. října 2010 - PC
29. října 2010 - Mac

Minimální HW požadavky
OS: XP SP2 / Vista SP1 / Windows 7

Processor: For XP 2.0 GHz P4 processor or equivalent; For Windows Vista and Windows 7 2.4 GHz P4 processor or equivalent

Memory: For XP 1 GB RAM / Windows Vista and Windows 7 1.5 GB RAM*

Graphics: 128 MB Video Card with Pixel Shader 2.0 support.

DirectX®:

Hard Drive: At least 500 MB** of free space with at least 1 GB of additional space for custom content and saved games.

Sound:

Supported Video Cards: Nvidia GeForce series: FX5900 or better, and all NVidia G, GT, GTS, and GTX video cards. ATI Radeon™ series card 9500 series or better, X300, X600, X700, X800, X850, X1300, X1600, X1800, X1900, X1950, 2400, 2600, 2900, 3450, 3650, 3850, 3870, 4850, 4870, 4890 series or better; Intel® Graphics Media Accelerator (GMA): GMA 3-Series, GMA 4-Series
* For NVIDIA ION™ computers, the game requires at least 2.0 GB RAM.
** 9.6 GB of hard drive space if installing with The Sims 3.
Please note that the GeForce 6100 and 7100 cards are not supported. The NVIDIA GeForce FX series is unsupported under Vista.

Buď první kdo přidá k této hře zajímavost!