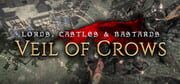 Veil of Crows
Žánry: Strategické, Role-playing (RPG)
Minimální HW požadavky
Operační systém: Windows 7
Procesor: 2.5 ghz
Paměť: 8 GB RAM
Grafická karta: Nvidia Geforce GTX 660 (or equivalent)
DirectX: Verze 9.0
Pevný disk: 6 GB volného místa
Dodatečné poznámky: Minimum requirements are set to the lowest that Veil of crows has been tested on and run on default (full) settings. These could drop due to further testing and optimisation over the early access period.

Buď první kdo přidá k této hře zajímavost!