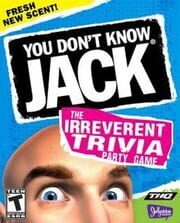 You Don't Know Jack
Žánry: Kvízy
8. února 2011 - Xbox 360
8. února 2011 - Wii
8. února 2011 - PC
8. února 2011 - Nintendo DS
8. února 2011 - PlayStation 3
1. dubna 2011 - iOS

Minimální HW požadavky
Operační systém: Windows XP, Vista, 7, 8
Procesor: 500 MHz processor or faster
Paměť: 128 MB RAM
DirectX: Verze 9.0
Pevný disk: 575 MB volného místa
Zvuková karta: 16-bit sound card
Dodatečné poznámky: The game runs at 640x480 max resolution. Manually adjust your Desktop resolution if you want the game to fill the screen.

Buď první kdo přidá k této hře zajímavost!